Shaker Heights High School
Class of 1967
In Memory
Charles B. Douthitt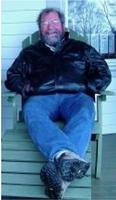 Charles B. "Chuck" Douthitt
July 12, 1949 – December 9, 2020
Chuck died of a heart attack followed by a brain bleed in Safford, Arizona, where he lived for the past 18 years.
Chuck grew up in Shaker Heights, Ohio. He is survived by his younger brother, John Douthitt, stepchildren Derek and Devon Brown, and Devon's children.
Many of us are sure Chuck was one of the smartest men on the planet in his prime. He was only 1/2 point short of the high school valedictorian although he had a part-time job and seldom gave the impression of studying. He had perfect SAT scores and graduated high school with 1/2 his freshman year of college already completed from all the advanced placement courses he'd taken. Then he went on to get a full scholarship for a Master's degree in Geology at Dartmouth, having never taken a Geology course, not even 101.
After studying for a doctorate at Cal Tech, he tried out teaching and prospecting, eventually settling on selling scientific mass spectrometers (as opposed to commercial application mass spec). He wasn't just a salesman - speaking with his colleagues in the field around the world - it seems some considered him to be the largest single force in guiding and developing the field of isotopic geochem mass spectrometry. One reported that he considered Chuck to be royalty because one could walk into any isotopic mass spec lab anywhere in the world, mention 'Chuck,' and everyone would know whom you were talking about.
Due to his sense of humor, Chuck had the nickname "Jolly Man" or simply "Jolly" on the mass spec circuit.
He was a firm believer in marriage and was successfully married four times.
There is a Shaker Heights High School Class of 1967 Scholarship Endowment which friends may contribute to in Chuck's memory.
For those considering Class of '67 donation, please contact Dave Icove at djicove@gmail.com